The second weekend of competition features top ranked teams on both coasts!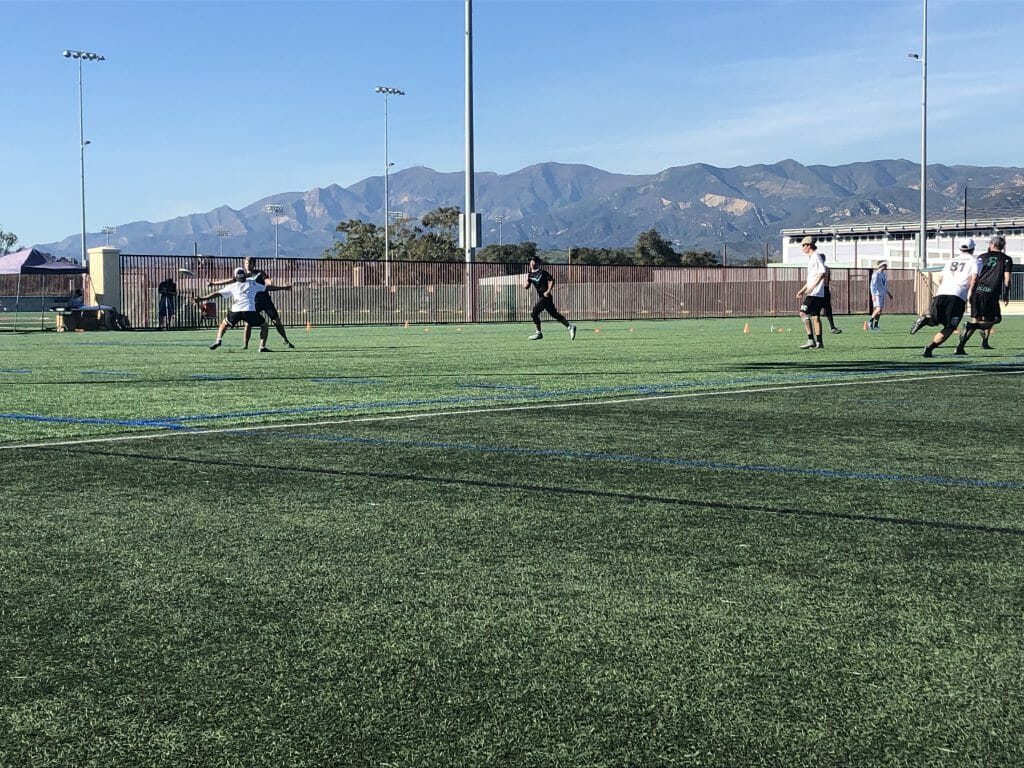 College Update during the 2019 season is presented by Spin Ultimate. Please support the brands that make Ultiworld possible and shop at Spin Ultimate!
During the spring season, we will publish a bite-sized weekly recap of the action across the College Division. This will serve as a supplement to our standard tournament reporting and will offer a high-level look at the latest happenings and the biggest stories of the week.
Want your tournament listed here? Submit a recap of what happened right here.
Men's
Cal Poly SLO Wins Weekend Filled with Upsets at Santa Barbara Invite
#11 Cal Poly SLO took home the victory after a wild weekend in Santa Barbara, CA, though #13 Brigham Young may have been the most impressive team in attendance, playing an undefeated Friday and Saturday slate before their traditional Sunday off. #7 Washington and #20 Stanford were both upset in the quarterfinals; Washington lost to the eventual winner, while Bloodthirsty barely made it out of pool play before losing to #24 Southern California. Additionally, UConn failed to win a pool play game while Colorado State couldn't make it out of prequarters; #25 Victoria, on the other hand, showed strong. The biggest surprise of the weekend: unranked British Columbia made it all the way to the championship game, losing 13-7 to SLO.
For more on Santa Barbara Invite, check out our Saturday recap and tournament recap.
UNC Darkside Holds on to Win Carolina Kickoff
#1 North Carolina defeated in-state foe #14 NC State 15-12 to win Carolina Kickoff. 2018 D-I Men's Player of the Year Matt Gouchoe-Hanas played ferocious defense to help seal Darkside's victory. UNC was short handed, only bringing 17 players for the weekend and sat out the majority of their starters, but still came out on top. #15 UNC Wilmington and #18 Emory both suffered surprising losses; UNCW fell to Georgia Tech in pool play, while Emory took an L at the hands of Notre Dame.
For more on Carolina Kickoff, check out our tournament recap.
Quick Hits
At T-Town Throwdown, LSU pulled off the 11-10 upset to beat #9 Auburn in the final down in Tuscaloosa. Auburn struggled in close games throughout the weekend, throwing their potential to win the Southeast into question.
#3 Oregon defeated rival Oregon State 15-8 in the final of Flat Tail Open. Ego was expectedly dominant, conceding no more than eight goals in any of their matches.
Both the men's and women's team for Northern Arizona lost in the championship game in Phoenix's New Years Fest. The men's team lost 13-4 to no. 5 seed New Mexico, who crushed everyone they played on their way to winning the tournament.
D-III Update: GoP vs. Richmond, Flat Tail Open
D-III men's play this weekend happened in two tournaments, one on each coast. On the East Coast, #4 Carleton GoP and #6 Richmond both competed at Carolina Kickoff, with the two programs facing off first thing on Saturday morning in the first notable D-III clash of the season. GoP took control early and held on for a 13-9 victory over a young Richmond team focusing on development. Neither team managed a notable win on the rest of the weekend, although GoP kept games close against several strong D-I programs.
On the West Coast, several Northwest teams faced off at Flat Tail Open in Corvallis, Oregon. #23 Puget Sound had a less than inspiring weekend, blowing out the bad teams they faced but struggling against everyone else. The low point of their weekend was a 15-11 loss to Lewis & Clark, showing that the Postmen have quite a bit of work ahead of them to get back their Nationals-level standards from last season. Bacchus also had a disappointing weekend, going 3-3 with several blowout losses. Early signs point towards another closely contested season in the Northwest.
This weekend's action will again come from two tournaments. #12 John Brown, Colorado College, and Rice highlight the D-III teams in competition at Big D in Little D down in Denton, Texas. #3 Mary Washington, #6 Richmond, #11 Williams, and #20 Davidson will all be in action at Mid-Atlantic Warm Up in Glen Allen, VA.
Women's
UC San Diego Wins Santa Barbara Invitational
#2 UC San Diego comfortably came out on top at the Santa Barbara Invitational. None of their games were close throughout the weekend. as they were obviously the deepest and most experienced team. They graduated zero seniors, and Dena Elimelech and Kelli Iwamoto — who were both recently selected to the U24 U.S. National Team — shined. #14 UC Santa Barbara gave them their best in the final, but San Diego won the final game of the weekend 13-9. But perhaps #9 Stanford's struggles will be the most newsworthy note: they dropped a game to Cal Poly SLO in pool play before unceremoniously bowing out in the quarterfinals at the hands of UCSD.
For more on the triumphs of #21 Wisconsin, #16 Washington, and the rest of the Santa Barbara Invite, check out our Saturday recap and tournament recap.
Quick Hits
The home team Virginia upset Michigan 9-8 to win Winta Binta Vinta Fest down in Charlottesville. Is Virginia on the rise or Michigan on the decline? It could be both.
At Clutch Classic, South Carolina defeated Vanderbilt in the final 8-5 to come out victorious in Kennesaw, GA. After going 3-0 Saturday without conceding a single goal, South Carolina held off rival Clemson 8-7 in their semifinal.
Denver took home the crown at New Year's Fest, defeating Northern Arizona 10-5 in the final. Both teams might feel like they have claim to the title, since Northern Arizona beat Denver 10-8 the round prior in their round robin pool play format.
D-III Update: No competition this weekend
Looking Ahead
The college season really busts through the gates, with ranked teams in every division taking the field at seven events.