The biggest college regionals weekend of 2021 saw teams competing from coast to coast for a chance to play at Nationals.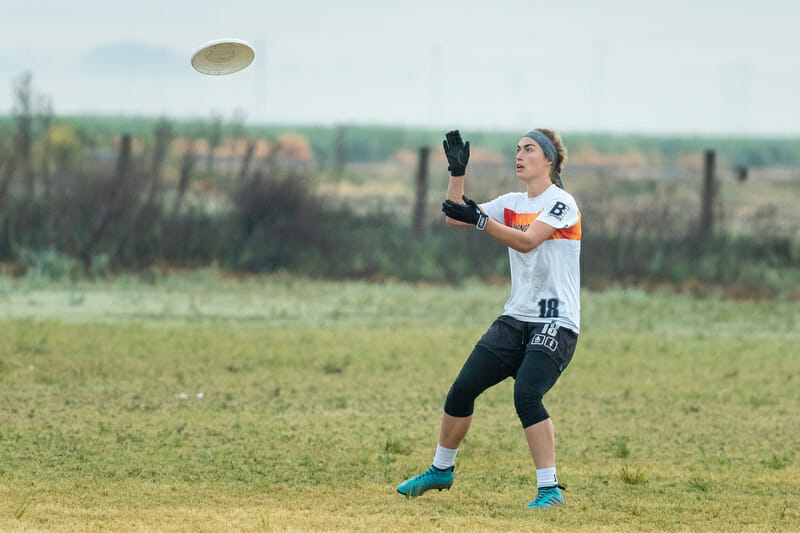 Our coverage of the 2021 college Series is presented by Spin Ultimate. Please support the brands that make Ultiworld possible and shop at Spin Ultimate!
The second of three weekends determining which college teams will compete in the 2021 College Championships is now behind us, and teams across all four divisions took to the fields to battle it out for a place in Norco next month. From coast to coast, some dominant favorites held their ground, a few surprise challengers snuck up through their brackets, and more than one tournament saw incredibly close competition for limited bids. Dive in to get a grasp of how teams performed and how they're looking as we lead up to the big show in December.
D-I Women's
New England
With some perennial regional powers not participating and an eventual finalist ineligible to advance to Nationals for reasons beyond their control, the two-bid New England tournament saw an interesting weekend of frisbee. On Saturday, #13 Tufts and #14 Vermont both went 2-0 in pool play — second-seeded Vermont only let four points get by them in Pool B. In bracket play, Vermont and Tufts faced-off in the final, with Vermont taking down the top-seeded Tufts 9-5. Tufts then played bottom-seeded Boston University, who went 1-1 in Pool B and beat MIT in a crossover game. In the second place game-to-go, Tufts came out on top but had to decline their bid due to school rules limiting their participation in the fall College Championships. Instead, Vermont — longtime challengers for the region's top spots and early favorites to seize a bid in 2021 — will be joined by Boston University Uprising, who are making their first-ever Nationals appearance.
North Central
Scoring eight points on #1 Carleton Syzygy is pretty respectable for a fall tournament, right? What if you're the entire rest of the North Central combined? No single team came any closer to challenging Syzygy on the weekend than Wisconsin's hard-fought 13-4, and eventual regional co-finalist Iowa State exited the first place game with a 15-2 loss to their name and no second bid to hang around and fight for. Wisconsin and Iowa State looked like the best of the rest at this tournament, putting up competitive scores with each other, a solid Marquette team, and a Wisconsin Eau Claire team who have performed well this fall. But the bid was Syzygy's before the tournament began and it's Syzygy's going into Nationals, where they're all but a lock for semis or better.
Ohio Valley
The weather outside was frightful and so were #9 Pittsburgh, going 13-4, 15-0, 15-3, and 13-3 against the region's next-best teams on their way to an eyebrow-raising 10-0 win in the final (though it's worth noting both teams — we'll get to the other finalist in a moment — had already qualified to advance). With so many known players returning for Pittsburgh, the biggest question at the fields was who would secure the remaining two bids with limited connectivity going into the weekend and no other indomitable favorites in an Ohio Valley whose tickets to Nationals often seem to come pre-stamped. This year, there was nothing to expect but the unexpected — and the bracket still managed to surprise.
#21 Ohio Stacked Cats had generated some buzz out of Ohio Conferences, particularly for a defense that makes highly effective use of well-tuned zone chemistry (and quite a few tall players for their fairly small roster). They reprised their Conferences win over Ohio State 12-3 to win their pool on Saturday, where they also dropped their biggest margin of victory all weekend — 11-1 — on Pennsylvania Venus, a middle-of-the-pack-at-Regionals team in recent years.
For Ohio, a Sunday rematch with Penn in semis might have looked like a mere formality on the way to a final with Pittsburgh. But Penn rebounded with a vengeance, switching tactics from the cautious, possession-oriented zone offense that played to Ohio's defensive strengths on Saturday to a huck-and-play-D approach that pitted them against Ohio's offense, where Penn was able to make real headway. By the end of the round, Venus had stacked eight points to the Cats' six, winning a place at Nationals and sending their opponents to the game-to-go against Ohio State. Ohio dispatched Ohio State again for the third and last bid, while Penn ran open lines in a celebratory cross-PA final between two teams with bids already in hand.
South Central
#10 Colorado and #11 Texas entered with strong claims to this region's two bids, with overall first seed Colorado perhaps a narrow favorite for the South Central title. Each had their closest challenges on Saturday in matching 15-8 games against Washington University and #25 Colorado College respectively, clearing the floor for the expected Colorado Quandary and Texas Melee final. The game stayed competitive throughout, with Colorado repeatedly taking leads of two to three points on Texas in the first half, only for Texas to quickly make up the difference; Texas then took half and maintained a small lead for much of the rest of the game, only for Colorado to go on a three-goal run to turn a 9-11 deficit into a 12-11 universe point win.
With Quandary's spot at Nationals secured, Texas moved on to a game-to-go with Washington University Iron Horse, where Iron Horse quickly established themselves as a potential threat for the second bid by playing point-for-point with Melee to take half 8-7. Texas had a 12-10 lead as the game entered soft cap, but then history began to repeat itself, with a two-goal run from Wash U making it 12s at universe. This time, however, Melee held on to score the final point, taking the bid and sending Iron Horse home with only their pride — at least for this Series. Beating either top two seeds for a bid would have been a feat for any of the region's multiple other solid teams, but this tournament's game-to-go announces this year's Washington University team as a real contender, and a program to watch when the next college season begins a few short weeks from now.
Southwest
The Southwest Regionals tournament saw five teams ranked in the top 25 competing for three bids to Nationals. #4 UC Santa Barbara and #15 UC Davis competed in Pool A, with UCSB securing a 10-6 win over UC Davis, though their results against the rest of the pool looked closely comparable. UCSB's Kaitlyn Weaver stood out as one of the best, perhaps the best, player at an incredibly deep tournament. In Pool B, #5 UC San Diego, #6 UCLA, and #8 Stanford all took the field. UC San Diego — who went 3-0 with the help of Alex Diaz — came out on top, with UCLA and Stanford each putting up only four points apiece against them; meanwhile, Stanford took down UCLA 11-5. Windy Saturday conditions certainly affected some teams ability to perform.
In bracket play, UC Santa Barbara beat Stanford 14-7 and UC San Diego won 11-8 against UC Davis in the semis, qualifying both winners for Nationals by default; in their first place game, the Burning Skirts won 13-8. In the bracket for third place, playing for the last bid to Nationals, UCLA got the opportunity to avenge their Pool Play loss to Stanford — the wind having calmed down by now — and successfully did so by a comfortable 15-7 margin, advancing to game-to-go against UC Davis. UCLA could not keep up their winning streak and fell to the wayside 14-6 against UC Davis, who took the final bid.
D-I Men's
New England
This region's bids dropped from 2019's three to a meager two this year, making competition for that last-chance second bid intense. Top-seeded #5 Brown, second-seeded #14 Northeastern, and third-seeded Vermont finished first in their respective pools; then Northeastern beat Vermont 12-9 in a crossover round, taking Brown and Northeastern to 3-0 records on Saturday and sending both teams to the final. There, defending national champions Brown played an impressive 15-9 game against Northeastern, comfortably securing the first bid to Nationals.
The real competition of the weekend took place in the second place bracket. Vermont, despite winning Pool C, lost to Massachusetts 12-9, taking Vermont out of the running for a bid to Nationals. Massachusetts went on to play #25 Tufts in an incredibly close 11-10 game in which Tufts ended up coming out on top — though due to school regulations, neither team would have been able to go to Nationals if they did qualify, meaning the region's last bid was effectively already Northeastern's. Nevertheless, Tufts advanced to the game-to-go, where Northeastern won 15-14 — qualifying for Nationals fair and square, no asterisks required, though Tufts and UMass can hold their heads high after a truly competitive weekend.
North Central
North Central, another two-bid region, is sending #4 Carleton and #22 Wisconsin to California for the 2021 College Championships. Carleton, the fourth seed, went 3-0 in Pool A; they won 10-7 over Wisconsin, who went 2-1 in the pool, and dominated the other two teams. Elsewhere at the fields, Minnesota and Iowa came out on top of their respective pools, then faced off in a crossover game where Minnesota won 12-9 and advanced to a final with Carleton. Carleton strutted through that game, beating Minnesota 14-7 to avenge their loss in Conferences and secure the first bid.
"Obviously we're happy to have won the region, but most of all, I think we are all just grateful to have gotten to play together again," senior captain Ben Preiss said. Carleton was lucky enough to have Alex Kucich, a 2021 graduate, consistently practice with the team this fall. According to Preiss, Kucich played a huge role in helping the Carleton leadership get all of the new players ready for the Series. "Bringing such a wide range of teammates together and being able to build chemistry and have fun together while still competing at a high level was great," said Preiss.
In the second place bracket, Wisconsin secured wins over Iowa State and Iowa to get to the game-to-go. Wisconsin came out on top 15-8 over Minnesota, taking the second bid to Nationals and extending the Hodags' streak of consecutive nationals appearances to 21, now the longest in the division.
Ohio Valley
As in 2019 in this division (and countless times in women's), it all came down to a Pittsburgh-Ohio State final. With both teams returning significant contributors from the rosters they sent to the last Series, these are two strong outfits who've seen each other's tricks before, and wintery conditions outside Columbus didn't stop either from going point-for-point throughout the game. In 2019, #12 Ohio State Leadbelly took a one-point win over Pitt to win the region; this yeah, however, it was #6 Pittsburgh who scored on universe for a 10-9 win, the regional title, and the first bid to Nationals. Still, Ohio State persevered through the next round, taking a universe point win over Temple for the second and last bid.
Unlike this year's women's tournament, the next three or four teams after Pittsburgh looked fairly competitive with each other, with Case Western, Cincinnati, and Carnegie Mellon playing close games in the second place bracket; Temple, in particular, advanced from an 8-7 backdoor second place semi with Carnegie Mellon to that very narrow loss in the game-to-go, a noteworthy performance during some of the fall season's worst conditions to date. Carnegie Mellon and Temple did take noticeably not-so-narrow losses to Pittsburgh in pool play, which complicates the transitive math of their overall strength compared to the region's top two teams — or for that matter, Ohio State's strength against Pitt-caliber teams they aren't specifically expecting to play at the end of Regionals. Still, Ohio State and Pitt alike will go to Nationals with experience, chemistry, and club-level contributors who've been in high-stakes moments, and that continuity will be a meaningful asset for both. Look to Ohio State in particular to push for one last dance in Norco, as many of the players who defined their recent rise in the division will move on after the fall.
South Central
The South Central region played in a differently-structured tournament than the vast majority of the other regions — there was only bracket play, with few chances to stumble and recover for any team contending for a bid. As expected, #2 Colorado and #7 Texas both stomped their way to the final, where Colorado secured a 15-9 win over Texas.
#18 Colorado State lost in the semis of the first place bracket, but were able to get through the second place quarters and semis to compete for the last bid to California. However, Texas took over that game, flipping the script on their last game with a 15-9 win to seize the last bid to Nationals.
"These boys are hungry, and we got a good glimpse of what we need to work on going into this next month," Texas captain Saaketh Palchuru said.
Southwest
As predicted, #9 Cal Poly SLO played well all weekend thanks to their notably deep roster. Cal Poly SLO has Calvin Brown, KJ Koo, Jake Thorne: all elite, reliable playmakers. They also rostered Garrett Bush, a Revolver practice player this past club season, who is making a big impact for them as a rookie. Cal Poly SLO came out on top of Pool A, took down #19 UC Santa Barbara 15-9 in the semis, and beat #16 Stanford, the overall no. 2 seed, 15-8 in the final.
The two-bid Southwest region saw most of its competition in the battle for the second bid to Nationals. Close-scoring games peppered the second place bracket: UC Davis went 11-10 over Southern California in the second place round of 32, California played a close 14-13 win against UC Davis in the second place prequarters, UC San Diego won 15-12 against UC Santa Barbara during the second place quarters, and UC San Diego avenged their 9-8 pool play loss against UCLA 14-12. UCSD's juniors Jacob Rodriguez and Daniel Pryke both stepped up into big defensive roles over the course of the tournament and were key to stopping UCLA in their bracket rematch sending UCSD to the second place final. In the second place game-to-go, Stanford and UCSD took the field. UCSD broke seed by one and secured a 12-9 win over Stanford as well as a bid to Nationals to represent the Southwest. Look out for Michael Huang, Bryce Lozinski, and Stefan Samu — the trio that keeps UC San Diego's offense moving.
D-III Women's
Metro East
Metro East Regionals traveled to New England for where #21 Rochester, #15 Vassar, and #17 Wesleyan played two days of round robins for two bids to Norco. On Saturday, Vassar went 2-0 with a big 10-5 win over Rochester. However, Rochester swept Sunday pool play 2-0, securing the first bid over Vassar 7-6. Vassar secured the second bid to California, winning 9-7 over Wesleyan, who went 0-4 on the weekend. On paper, Rochester took the first bid to Norco, but, on the field and based on the scores, Vassar seemed to have a more solid overall weekend performance.
New England
In a highly competitive division, with only two bids up for grabs and every team ranked, #4 Middlebury established themselves as the top dog of the region. Middlebury went 2-0 in Pool A with big wins over #9 Bates and #20 Stonehill, sending them to final against #5 Amherst — who also went 2-0 in Pool B. Despite Amherst's results on Saturday, Middlebury crushed them 11-3 to take first in the region and land a bid to Nationals.
Despite Middlebury's impressive play, the real story of the weekend was #25 Brandeis BANSHEE. In Pool B on Saturday, Brandeis suffered sizable losses to both #8 Williams and Middlebury. They would need to win three straight games to claim a bid. In the crossover, Brandeis secured a 10-4 win over Stonehill, sending them into the second place bracket. Brandeis calls themselves a second day team, and you can see why. In the second place semis, BANSHEE took down previously-dominant Williams 11-6. However, the game against Amherst looked a little different: Brandeis was down 4-2 at halftime, and their energy was low.
"In past experiences, changing the team energy is a bit of a force," Brandeis captain Eve 'Echo' Robinson said. "But as soon as the coach mentioned it, everyone got back in the zone. Heads up, cheers ready."
Co-captain Allie 'Fresca' Mundis agreed. "The energy on the sideline was empowering and mobilizing," she said. "We fought for every point like it was universe point. You could feel the momentum building."
With a newly-energized sideline, Brandeis took control of the second half, did not let Amherst score again, and won 9-4, securing the team's first ever bid to Nationals. Look out California, the BANSHEE's are coming!
Ohio Valley
The Ohio Valley regionals were colder than expected, welcoming the first snowfall of the year. #6 Lehigh Gravity went 4-0 in pool play, besting each team with an impressive point differential — their closest game was 10-4 against #24 Kenyon. In the Sunday bracket, Lehigh faced off against Kenyon for the second time and secured their bid with the same score as before, truly solidifying their dominance of the region.
"We had a really strong and adaptable defense in windy conditions so our cup really came to play," said Lehigh captain Elly 'Talon' Labay. "Everyone had an important role but a standout offensive player was #20 Erin 'Rex' Dillon whose strong and steady hucks in the wind helped the team get important yards that contributed significantly to our success."
Kenyon earned their spot in California in the second place game-to-go, winning 8-4 over Swarthmore.
D-III Men's
Metro East
For the first time since 2013, the Metro East D-III Men's division had two spots to Nationals to contend for. In typical ME fashion, there was plenty of parity, with no team escaping the weekend undefeated. The Rochester Piggies were able to bounce back from a Saturday loss to Vassar by beating #23 Colgate Jabberwock in the final. This will be Rochester's first ever trip to D-III Nationals.
While Rochester made their run through the first place bracket, eventual second place winner Wesleyan Nietzsch Factor was making a dominant run through the backdoor bracket. An unusual format saw Wesleyan eliminated from first place contention after their first game, but NF was never really tested after this first loss. Their closest game the rest of the weekend was a 15-10 win over SUNY Geneseo in the first round of Sunday, and they punctuated their run with a 15-3 demolition of Colgate in the game-to-go.
New England
With just two Nationals bids to contend for instead of the three or four to which the region has become accustomed, the stage was set for plenty of drama in Easton, MA, this past weekend at New England Regionals. However, the 2019 National Champion #5 Middlebury Pranksters assured that at least one bid winner wouldn't be in question. Led by Leo Sovell-Fernandez, Walker Frankenberg, and one of the deepest rosters in the division, the Pranksters went 5-0 on the weekend with a point differential of +43, including a pair of 13-2 wins over eventual second bid earners #12 Brandeis TRON.
While Middlebury earned their bid with relative ease, Brandeis had multiple scares along their path to Norco. TRON started their weekend by coming back from a 6-3 deficit to win their first pool play game 10-9 on double game point over Bates. In their crossover game against #11 Bryant Craze in the final round Saturday, Brandeis overcame a 5-1 deficit to win 11-9 and avoid the backdoor bracket. TRON sealed their trip to Nationals with a comfortable 13-6 win over a scrappy Amherst team. This will be Brandeis's first trip to Nationals since their second place finish in 2016.
North Central
We knew the #3 St. Olaf Berzerkers were going to be very good and likely win the North Central. Their performance in Ames, IA, this past weekend was next level. Led by the trio of Drew Otterlei, Luke Bleers, and Will Brandt, who all played together on Minneapolis Sub Zero this summer, the Berzerkers went…well, berserk on the rest of the field, going 5-0 with a point differential of +47 on the weekend. St. Olaf haven't played a game closer than 15-6 this season and enter Norco as maybe the hottest team in the division.
It was a tale of two days for the region's second bid. On Saturday, #18 Luther LUFDA picked up a big double game point win over #17 Carleton CHOP to secure the top seed in Pool B and avoid St. Olaf until the final. CHOP was forced to work their way through the second place bracket, while LUFDA got the first round Sunday bye and waited for Carleton in the game-to-go. After going down 3-0 to start the game, CHOP battled back to make it 4-4, before taking half 8-6 with two straight breaks. Luther couldn't get any momentum going in the second half, and Carleton rolled to a 12-7 win. This secured Carleton CHOP's 14th trip to D-III Nationals, the most in the division.
Ohio Valley
For the first time since 2014, the Ohio Valley had two bids to fight over in the men's division, and with three teams inside our top ten entering this weekend, there was sure to be drama for who would earn the two spots in Norco. After a less than convincing performance at Sectionals, #10 Franciscan Fatal rounded into form in Hilliard, OH, persevering through wind and snow to go undefeated and take the first bid to Nationals. Led by Mark Schuster and Ben Lyle, Fatal avenged their Sectionals loss to #8 Oberlin not once but twice on their way to the regional championship. Having established themselves as regular contenders in the division under the leadership of coach Dom Gabriele and assistant coach Nick O'Brien, Franciscan returns to the big show having proven an ability to contend with anyone.
While Franciscan's path to a Nationals berth was fairly straightforward, #9 Kenyon SERF's route to the second bid was anything but. A three way tie atop Pool B saw Kenyon finish third in the pool due to a surprise 12-8 loss to Grove City, sending SERF to the second place bracket where they would have to win four straight elimination games to earn their bid. Kenyon battled through wind and snow to win three straight games on double game point before finishing their dramatic run with a 9-6 win over Oberlin in the game-to-go, sending Kenyon to Nationals for the first time since 2014.
South Central
With six teams in our top 25 competing for just two bids to Nationals, perhaps no region was wronged more by this season's bid allocation than the South Central. Things mostly went to seed in pool play, but the bracket is where things got exciting.
Taking care of business to earn the first bid to Nationals was #2 Oklahoma Christian. In the program's first postseason since rising to notoriety with their scholarship program, OCU avenged their only loss of the postseason against #20 Truman State JujiTSU in the semifinals before repeating their pool play performance with a 12-10 win over #13 Colorado College Wasabi in the final. Led by 2019 returners Elliott Moore and Kevin van Roosmalen, as well as 2021 additions Kyle Henke and Jonathan Costello, OCU will enter Nationals on a ten game winning streak and be among the favorites to win it all.
On Saturday, Colorado College broke on double game point to beat #4 Missouri S&T Miner Threat 12-11 in the last round, sending Miner Threat to fight through the second place bracket. S&T's weekend was then cut unexpectedly short with another double game point loss, this time to the #15 Sul Ross State Lobos. The Lobos continued their run to the game-to-go with a 13-11 win over #21 Rice Cloud 9 in the second place semis, but the Lobos' small roster didn't have the legs for another upset. Wasabi were in control the entire game, jumping out to a 3-0 lead and taking half 7-3. Colorado College never let up, winning 13-5 and returning to Nationals for the first time since 2017.
Southwest
With a second half surge, #22 Claremont Braineaters dispatched Occidental Detox to claim the lone bid to nationals from the Southwest region. Claremont started its day with a 15-4 dismantling of Caltech Aftermath. In a full-team effort, the Braineaters rookies led the way: Cianan Gamble tallied four blocks as part of a defensive unit that raced out to a 6-0 lead. Andrew Baxter and Rory Beals led the way with two assists each, and Griffin Campion caught a pair of goals to open his college stat book entry.
In the second round game, Occidental broke first on just the third point of the game and rode their momentum to a 6-5 lead. From there, Claremont held on to convert a four-possession hold and immediately broke back to take half 7-6. Opening the second half with a saggy, junk look, the Braineaters ran off three straight breaks to take a 10-6 lead. Detox managed to inch up the field, eventually breaking through the Claremont zone, but soft cap went on before they scored to make it 10-7. Needing just a hold to advance to Nationals, Beals lofted a flick that found Ezra Marcus-Tyler's hands in the back of the end zone as the team rushed the field in jubilation.
Jack Weber was a tour de force, playing nearly every point in the second half and coming up with four goals and three blocks. Veteran leader August Cosinuke finished with three assists to lead the team.
Occidental finished their day with a 15-4 win over Caltech. Detox was missing a few key contributors, including captain Luca Van der Meer who got hurt in warm ups. Cole Lewis and Benjamin Ventresca were stand out players on the offensive and defensive lines respectively.