Your guide to the biggest players, teams, and stories of the 2023 D-III college season!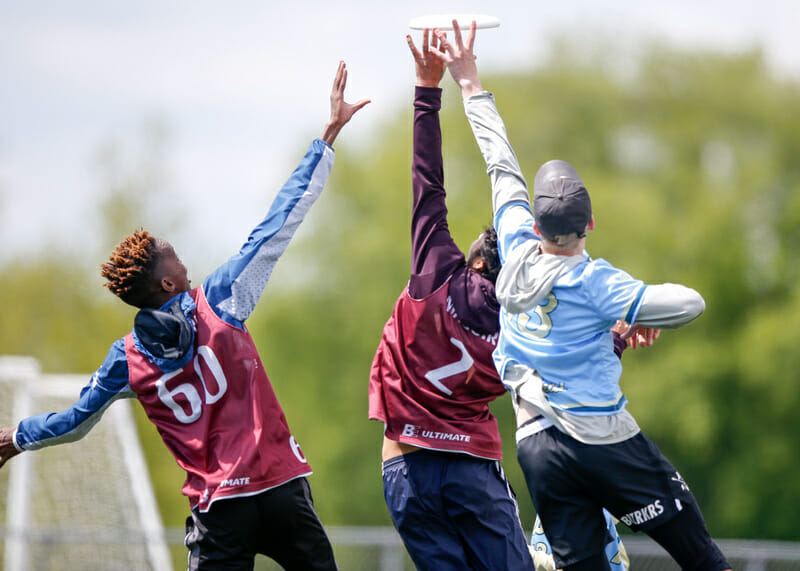 Ultiworld's coverage of the 2023 college ultimate season are presented by Spin Ultimate; all opinions are those of the author(s). Find out how Spin can get you, and your team, looking your best this season.
For the first time since 2019, we are poised to have a full college season with normal rankings, a normal bid process, and a normal Series. Well, as normal as college ultimate can be, anyway.
College season is back, and it brings with it all the things that make these next few months so fun. Whether it's title chases, regional rivalries, new stars, unbelievable rookies, or unexpected storylines, each year we find college ultimate delivers entertainment and plenty to talk about. We've gathered up the stories and names you need to know before the college season kicks off.
Major Storylines
Can Oklahoma Christian Three-Peat?
The Oklahoma Christian Eagles just strung together the most impressive two-season run in the history of the D-III Men's division.
Recall back in 2019, the Eagles burst into relevance with their first-of-its-kind scholarship program for ultimate. Many wondered whether the model would work; with the premature end to the 2020 season due to COVID-19, fans were left waiting to find out. In the 2021 and 2022 seasons, we got our answer. Their star-studded roster, fueled by scholarship-recruited top talent, won two national titles (along with a handful of individual accolades). But the talent turnover from 2021, namely the loss of D-III Men's Player of the Year Kyle Henke, is a pebble in the mountain of losses for OC in 2023. Departing from last season are Elliott Moore (2022 D-III Men's POTY), Jonathan Costello (First Runner Up 2022 D-III Men's POTY), and Max Hamilton. They keep 2022 D-III Men's ROTY Sammy Roberts, Second Runner Up 2022 Men's BPOTY Thomas Preston, First Runner Up 2022 D-III Men's DPOTY Emmanuel Kameri, and Emmanuel Bilolo. Also, 2022 D-III Men's COTY Garrett Taylor also returns for the 2023 season.
But all teams are prone to talent turnover–that's the nature of college ultimate. Oklahoma Christian had success as a team of systems and roles. Especially with the bottom half of the roster, players had to learn to perform one or two things exceptionally well and make room for their stars to shine. With Coach Taylor at the helm, their success will hinge on how well he and team leadership can maintain that role-oriented approach to ultimate. They can either use their remaining talent to work into the roles left vacant from the 2022 departures or bring in more talent through their strong recruiting channels.
So far it looks like it will be a little of Column A, a little of Column B. The aforementioned returners will surely be in a larger number of must-score points than they were last season, but they'll also have to make space for new additions. OC add Ryan Loui-Ying, a Canadian selection for this U20 cycle, who has already populated the Eagles' Twitter feed with highlights and stats. Three other pickups — Couper Kerns, Logan Krehbiel, and Logan Hammersmith — should help as well. Having players with experience is useful at any college level; in D-III, YCC experience is at a premium.
So, will the Eagles three-peat? Probably not. It's a new season. The 2021-2022 COVID season is over. New teams have new talent. A three-peat in D-III men's has never been done.1 That said, they will be an exciting team to watch throughout the year. Other teams will play with a fire knowing they have a shot to beat the back-to-back champions. Look for tweets to end with "well, that means we're national champions now, right?" The Eagles will be highly ranked entering this Spring season, but no division shakes up more than D-III. It will for sure be a story to watch.
How Will The Bid Picture Shake Out, Now That We're Back to the Algorithm?
The 2022 college ultimate season was weird for a number of (understandable) reasons, but one of the most unique things about the season was the method used to determine how many bids each region got to Nationals. With many teams still restricted due to the pandemic, USAU chose to go with a hybrid model that combined region size with past success to determine bid allocation. As the ultimate world returns to normal, the 2023 bid picture will return to being shaped by the almighty algorithm.
So what does this mean? The first impact is a return to value for the regular season. Last year, the regular season could be dedicated to player and strategy development, as results had no impact on bid allocation. However, the algorithm has no interest in line-calling or if your team decided to spend a tournament working on your zone defense. What tournaments teams attend are very important now, and each point played at those tournaments could be the difference in deciding a bid to Nationals. Having real stakes on the regular season is entertaining for us fans of the division and makes following results all season even more exciting.
The second impact is that regions who scored an extra bid last year due to their size could be facing a return to reality, and stronger regions who typically earn strength bids should be much happier this year. In 2022, the South Central was particularly victimized by the bid distribution; despite having three teams in the top seven of our power rankings,2 the SC only got to send two teams to Milwaukee, creating a situation where the eventual national champions had to sweat out a backdoor game-to-go just to survive Regionals. The Ohio Valley and Metro East were the beneficiaries of the unique year, each picking up a second Nationals bid when the algorithm would have only given them one.
All in all, the return of the algorithm is a good thing. Having a meaningful regular season is good, and rewarding regular season performance with bids is important. We can't wait to repeatedly hit F5 on frisbee-rankings.com every Monday.
Which Surprise Teams From 2022 Can Make It Back to Nationals?
To call a team a "surprise" should never be heard as an indictment of their hard work. If anything, it's a compliment. It shows that some (unnamed) reporters spent too much time looking at the Wizard and not the person behind the curtain. The upcoming season will be a test to see if a handful of teams can move out of the category of surprise into perennial Nationals qualifiers. There were five teams last season that raised eyebrows and should be on the radar for 2023: Connecticut College Deimos, Ithaca Nawshus, Grace Lancers, Scranton Electric City Ultimate, and Navy Poseidon.
To start, Connecticut College Deimos were the second team out of the Metro East. They got into Nationals through the backdoor bracket after a loss to Ithaca in the game-to-go. But that first loss to Ithaca was 15-4. The Metro East is usually a one bid region, and there's no signs of that trend stopping now that we're back to the algorithm. This begs a second question: Will Ithaca Nawshus take that first bid, or will another Metro East team return to Nationals? Nawshus were another first-time qualifier out of the Metro East and had a dominant run to their Regionals win. But their results in Milwaukee left much to be desired. Like Deimos, Nawshus went 0-3 in pool play and missed the bracket. Someone has to win the Metro East — could CC or Ithaca start a streak?
The Grace Lancers qualified for Nationals out of the Great Lakes and made a surprising run to the quarterfinals with a universe-point win over Navy Poseidon in prequarters. While they would fall in quarters to eventual champions Oklahoma Christian, Grace turned some heads. Their two standouts, Joel and Ben Close, combined for 46 total points. Joel Close returns for another season and is sure to be one of the best players out of the Great Lakes region. There are no signs of the Great Lakes being a multi-bid region this year. Butler Big Dog, who the Lancers narrowly defeated in the game to go 12-10, will look to give them some trouble on Regionals Sunday.
Scranton ECSU (Electric City Scranton Ultimate) was another first-time Nationals qualifier last season. They entered Nationals at the bottom of Pool C but broke seed and made it into bracket with a double game point win over Ithaca. In bracket play, Scranton had a shocking upset over the Claremont Braineaters in prequarters before a predictable blowout loss to the high-powered St. Olaf Berzerkers. Scranton's success was on the back of the First Runner-Up BPOTY Matt Pindilli, who notched 31 assists over Nationals weekend and ended with a neutral plus/minus despite his 35 turnovers. Thankfully for Scranton, Pindilli is returning for another season, but their success at Regionals 2023 will be dependent (like many regions) on bid allocations and roster turnover on other teams. It's too early in the season to predict how the other Ohio Valley teams stack up, but Scranton's run to quarters was one of the more fun storylines to come out of Milwaukee all the same. At the very least, they're a team to keep an eye on. At the most, they're the new face of the Ohio Valley.
Our last surprise team is Navy Poseidon. Their Nationals debut was supposed to come in 2021, but circumstances prevented them from attending Norco. In 2022, they secured the single bid out of the Atlantic Coast and entered Milwaukee as the fifth-overall seed. Silas Rhodes and Max Benedetti were huge factors in Navy's success, as was Second Runner-Up COTY Lieutenant Commander David Sitra. But their performance at Nationals left much to be desired. While they held seed in Pool D, they had a premature exit in prequarters with a double game point loss to Grace.
How will Poseidon recover for the 2023 season? This is where the "surprise" comes into play. The Atlantic Coast has been an under-allocated region for the past couple of seasons. Perennial Nationals qualifiers Richmond Spidermonkeys were weaker in 2022 than in seasons' past, leaving the door open for Poseidon to take the single bid. But fresh off of a decent recruiting cycle (and with a chip on their shoulder), Richmond will not let lightning strike twice. Coupled with other Atlantic Coast teams Christopher Newport Skymaul, Mary Washington MOG, and Davidson DUFF, Navy will have a crowded field to get through a, presumably, one-bid region. If they succeed, however, they'll take the throne from Richmond as the new powerhouse team out of the Atlantic Coast.
How Will the North Central Hierarchy Play Out?
In our Regionals preview of the North Central last year, we (wrongly) predicted that it was the most straightforward region in the country. COVID-19 had other plans, and instead we ended up with a surprise Nationals qualifier that overachieved against expectations, creating a fascinating region to follow this year.
At the top of the North Central are the 2022 National Runners-Up, the St. Olaf Berzerkers. The Berzerkers were dominant last spring, not dropping a game until their loss in the national final, and they bring back a large portion of their roster. Leading the squad are 2022 OPOTY Will Brandt and 2022 Second Team All-American Luke Bleers. Brandt and Bleers would each be the best player on most teams in the division, and for St. Olaf to have them anchoring their O- and D-lines, respectively, is bordering on unfair. The Berzerkers should crush the region again and will have sight set on making it back to the national championship game, this time with eyes on winning it all.
Where the region really gets exciting is in the battle for second. Carleton CHOP were heavy favorites to take the NC's second bid last spring, but a COVID outbreak on the team at Regionals forced them to withdraw on Sunday, opening the door for someone else to earn the trip to Milwaukee. Although this is a bit of a rebuilding year for the perennial Nationals contender, CHOP are a program that always manages to stay in contention. Expect Chris O'Mara and company to improve over the course of the season and be in the conversation for a Nationals bid once again.
The team that managed to capitalize on Carleton's misfortune last year were the Grinnell Grinnellephants. Led by 2022 BPOTY and U24 Mixed's Jacob Cowan, the Grinnellephants not only surprised the world by qualifying for Nationals, but put forward a strong showing in Milwaukee, finishing 10th and playing close games against many of the best teams there. Cowan has deservedly received a lot of praise from us, but Grinnell were far from a one-person show last year. Jo Saito, Will Norry, and Ishai Melamede were all excellent, and the Grinnellephants only lost four players from last year's team.
The regular season will be important for all three of these teams; the simplest way to avoid a stressful game-to-go is to earn an extra bid for the region. But if we see the North Central with just one or two bids, we'll be looking at the furthest thing from a straightforward regional tournament in April.
Has the South Central Taken New England's Crown?
The reporting team is torn. Due to this irreconcilable difference in opinion, we present two competing responses to this question. It's time to embrace debate.
Mike Ball: The 2010s belonged to New England as the strongest region top to bottom, but the South Central is carving out the 2020s as their own. Not only do they have top-end talent, but they have impressive depth to back it up.
We've talked enough about Oklahoma Christian already; you don't become back-to-back champs without being damn good. But the Eagles aren't the only top-end team in the region. Colorado College Wasabi made quarters in the spring and, led by First Team All-American Lincoln Grench, start this season at 5th in our Power Rankings. Wasabi return 16 players from last year's team, and players like Eliot Kirkham got valuable high-level reps in Milwaukee. They'll be in contention for a semis run this year.
I think the depth of the region is really where the South Central shines. Missouri S&T Miner Threat were the only D-III team to beat OC last year; they would have won half the regions in the division last year, but they couldn't even make Nationals from the SC! John Brown and Sul Ross State are two teams that typically field smaller rosters, but are capable of hanging with anyone in the region. John Brown have already played OC tight this year, losing by two at Just Plain Chilly. Air Force are just a couple years removed from being a semis team, and Colorado School of Mines and Rice always give the top of the region tough games at Regionals.
I'm sure you'll make a compelling case for New England, Chris, but at least for this year, I give the edge to the South Central.
Chris Cassella: Mike, these are all good points. But, I think it's too early to give "Best in Show" to the South Central.
Let's take a walk down memory lane. A New England team has been in the semifinals every year since 2013. In the past ten years, a New England team has been in the final seven times, and has won four times. The Middlebury Pranksters were the OG "can they go back-to-back" team in Men's D-III, and every year they are in the conversation to be national champions. Middlebury were quite literally one point away from stopping the storied Oklahoma Christian back-to-back championship and making it to their third consecutive national final. The Pranksters are really good…and they're from New England.
Let's jump back to the present. The rest of the region has taken a downturn. Williams WUFO and Brandeis Tron are not the programs they were in the 2010s. But, I'd bet that both of these teams qualify for Nationals in 2023. Why? New England is really good at earning a third bid. But I'll go one step further. There's no reason to think that at least one of these backdoor bracket teams from New England finishes in a similar spot to the second team out of the South Central. Looking at the results from the 2022 Nationals, WUFO made it to prequarters. If they win that game against Oberlin, both they and Colorado College leave Milwaukee as quarterfinalists.
The best argument for the strength of the 2023 South Central is that they have two or three teams that are legitimate national semifinalists. But, I'll be crass: it doesn't matter how many legitimate teams you have that can win a national title if there are not enough spots for those teams to qualify in the first place. Middlebury are favored to be a semifinalist/finalist this season. Brandeis and Williams can earn multiple bids for their region. Until the Pranksters fall off in talent, or New England becomes a one-bid region, I'd say New England can keep the crown until 2024.
Players to Watch
Some of the players we think will define the 2023 college season.
Atlantic Coast
Max Benedetti (Navy)
Brett Schoppert (Richmond)
Will Yaglou (Christopher Newport)
Great Lakes
Joel Close (Grace)
Jonathan Courts (Butler)
Collin Kemp (Wheaton)
Metro East
Kevin Scannell (Conn College)
Owen Young (Ithaca)
Sam Harris (Wesleyan)
New England
Max Hanscom (Middlebury)
Charlie Tantum (Williams)
Matt Sehgal (Brandeis)
North Central
Will Brandt (St. Olaf)
Jacob Cowan (Grinnell)
Luke Bleers (St. Olaf)
Northwest
Leo Dungan-Seaver (Whitman)
Ben Travers (Lewis & Clark)
Jacob Robblee (Whitworth)
Ohio Valley
Matt Pindilli (Scranton)
Owen Hevly (Kenyon)
JP Duerr (Franciscan)
South Central
Sammy Roberts (Oklahoma Christian)
Lincoln Grench (Colorado College)
Ryan Hays (Missouri S&T)
Southeast
Collin Hill (Berry)
Daniel Green (Union)
Cameron Copeland (Spring Hill)
Southwest
Ty Rocker (Claremont)
Cole Lewis (Occidental)
Teddy McGowan (Occidental)
The Current Power Rankings
---
Indeed, no team had ever accomplished back-to-back D-III titles in the men's division prior to Oklahoma Christian. ↩

We don't have algorithm results to cite since Cody Mills has updated frisbee-rankings.com already for this season ↩