Catch up on all of Ultiworld's writing about Club Nationals!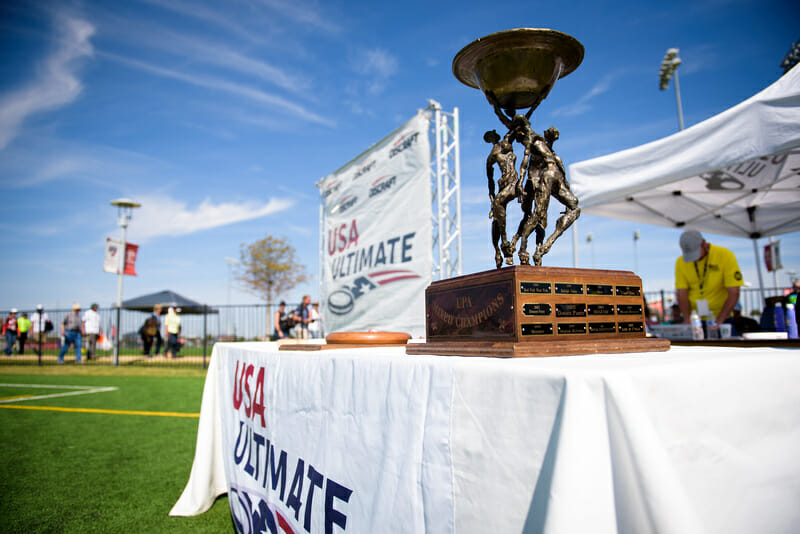 Every year, the Club National Championships is the most-followed ultimate tournament in the world. With interest so high, we pour out a great deal of content in the lead-up to the tournament, during the tournament itself, and in the post-tournament wrap. It can be so much, in fact, that it is impossible to keep up. So here is a roundup of nearly all of our tournament coverage, from features to reporting to opinion.
Editor's Note: I particularly recommend reading the profiles and features if you missed them in the run-up to Nationals. 
Profiles
The Resurgence: Riot's Sarah Griffith's Return To Stardom
On Winning, Losing, And Confidence: An Interview With Ironside's Josh "Cricket" Markette
The Humble Superstar: Can Ring of Fire's Jon Nethercutt Keep On Winning?
The Hometown Hero: Mixtape's Khalif El-Salaam Has Big Plans
Features
An Oral History Of Double Game Point In The 2014 Ring/Ironside Semifinal
Is 2015 The End For Kevin Seiler And CLX?
Drag'N Thrust & Blackbird: Two Path To Three Titles
Reporting
Finals Recaps: Revolver/Sockeye, Brute/Riot, Drag'N/Mixtape
Semifinals Recaps: Revolver/Machine, Sockeye/Ironside, Brute/Molly, Riot/Fury, Drag'N/Slow White, Mixtape/Polar Bears
Quarterfinals Recaps: Mixed, Women's, Molly Brown/Scandal, Ironside/DW, Ring/Machine, Revolver/Truck, Sockeye/Madison
Prequarters Recaps: Women's, Mixed
Men's Prequarters Recaps: Ring/Florida, Madison/High Five, Revolver/PF, DW/GOAT, Ironside/Patrol, Truck/Sub, Machine/Bravo, Sockeye/Rhino
Day One Recaps: Men's, Mixed, Women's
Analysis
Chicago Machine Loses Their Way To A Strong Semis Appearance
Riot, Finally, Gets The Better Of Fury At Nationals
How Sockeye Beat Revolver Earlier This Season
The Curse Of Consistency: Ironside Back To Semis
Talent And Preparation Define Revolver's Fourth National Title
Video/Photo
Thursday Highlights
Friday Highlights
Saturday Highlights
Photo Coverage From Our Partners At UltiPhotos
Full Game Footage Available For Subscribers
Opinion/Miscellaneous
F*ck: Language Penalties Plague The First Two Days Of Nationals
Third Year Of Nationals Format Frustrates Players And Fans
Sin The Fields: Exclusive Interview With The UPA
Why Giving Mickle A Language Technical Was The Right Call
In All But Name: Observers Are Looking Too Much Like Referees
Making Spirit Scores Meaningful, And Why It Matters
Rule Check: Was Brian Schoenrock's Highlight Catch Actually A Foul?
Awards
Men's Player Of The Year: Cassidy Rasmussen
Women's Player Of The Year: Leila Tunnell
Men's All-Club: 1st Team, 2nd Team
Women's All-Club: 1st Team, 2nd Team